Choice Cuts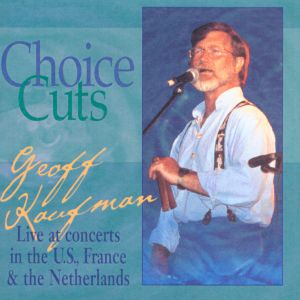 Live at festivals in France, the Netherlands, and Swans Island, Maine.
I created this album a few years ago as a promotional sampler, but liked the result enough to add more live recorded cuts and offer it for sale. (Re-released with new tracks in 2008!)
My greatest joy as a performer is to be surrounded by the magic of a crowd joining in full voice harmony on a chorus. I recently realized that over the last fifteen years I've had the privilege of having performances recorded in a number of concerts that together represent some of the highlights of my career.
Frankie's Trade - (Kipling/Bellamy) 3:22
World of Misery (Shenandoah) - (Traditional) 3:42 [Listen at last.fm]
Booze Yacht - (Traditional) 3:59
John Cherokee - (Traditional) 2:09 [Listen at last.fm]
Pat Do This - (Traditional) 3:09 [Listen at last.fm]
The Old Figurehead Carver - (Hiram Cody/Dick Swain) 5:07
Crossing the Water - (Staines, © 1991 Mineral River Music BMI) 3:31
Won't You Help Me to Raise 'em - (Traditional) 3:53 [Listen at last.fm]
Lynchburg Town - (Traditional) 4:23
Survivor Leave - (Ken Stephens, © 1982 Seaways) 4:20
Old Zeb - (Larry Kaplan, © 1977 Kaplan/BMI) 3:42
Who Built the Ark - (Traditional) 3:40
Johnson Girls - (Traditional) 2:23 [Free MP3] [Listen at last.fm]
Horizons - (Bob Zentz, © 2000 BMI) 3:55
Tree of Life - (Carawan/Seeger, © 1985 Stormking Music) 3:32
Total time: 54:00
I can't begin to tell you what a wonderful time we had... My children adore the tape (Fair Stood the Wind); my son, who is six, has almost all the words memorized.
T. Greene, Jacobstown, NJ