Fair Stood the Wind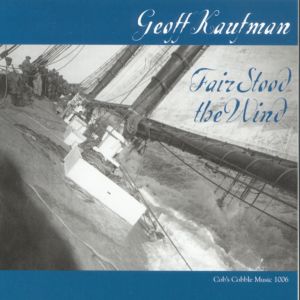 Recorded at Dun Raven Productions, Perryville, RI
Re-released on CD in 2004
This recording, originally published in LP and cassette in 1987, was my first, and the culmination of a curious chain of influences that led me toward songs of the sea. As a piece of my own history, and because I still like them, here are the original notes, with very slight emendations.
This album has been a long time coming. In part it dates back to my childhood, when my mother sat at the piano singing "Shenandoah" and "Blow the Man Down" out of the Fireside Book of Folk Songs. Then, twenty years ago (now thirty-seven!), the first more direct seeds were sown (excuse the un-maritime metaphor, but I'm a farm boy raised in the Catskill Mountains of New York State) when I first heard Gordon Bok sing "Bay of Fundy" and "Where Am I To Go?" At the time, I was caught up in the popular "folk" music explosion, but eight years later, on the eve of OpSail '76 in NYC, those songs emerged as a part of a new direction in my own performance. I'd begun to sing with a quartet called STOUT, doing mostly Irish material, but in honor of OpSail we put together a maritime repertoire that became our main fare for the next five years. That led to an invitation to the first annual Sea Music Festival at Mystic Seaport Museum in 1980. I already loved the music; that weekend I fell in love with the Seaport. And so, despite leaving STOUT and NYC for a four year sojourn back in the Catskills, I was soon working on a substitute basis as a chanteyman in Mystic, and in 1984 joined the staff full time. (I went on to coordinate Special Music Programs and direct the Sea Music Festival at Mystic Seaport for fifteen years.)
With this history, it seems logical that my first "solo" album (with an invaluable cast of talented friends) should have a maritime theme. The sea is timeless, mystical, powerful; and the music born of its working on the human imagination captures a vital part of those qualities. At the same time, it is wise to view with care the "romance" of the sea. There are valuable lessons to be learned from the history of our relations with the sea, but much is changed and much is passing. Let's hope that the lessons are enough to ensure long life to the sea which may then nurture us and our survival.
I wanted to tell you how much I enjoyed Fair Stood the Wind. I particularly enjoyed "Mingulay Boat Song".
Tom Paxton