Folk Songs of the Catskills: A Celebration of Camp Woodland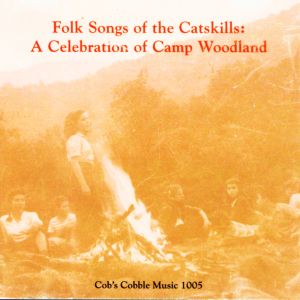 Recorded at Nevessa Studios in Saugerties, NY on four days in March and April, 2000
Featuring: Joanna Cazden, Bob & Louise DeCormier, Ronnie Gilbert, Joe Hickerson, Geoff Kaufman, Abby Newton, Pete Seeger, Artie Traum, Happy Traum, Jay Ungar & Molly Mason, Mickey Vandow, and Eric Weissberg
The particular inspiration for this album came from Betty Haufrecht, upon the death of her husband Herb in 1998. Herbert Haufrecht had worked as a music director at Camp Woodland, outside of Phoenicia, NY, during the 1940's, and had helped collect the songs that he would finally see through to publication in 1982 by SUNY Press in Albany, NY as Folk Songs of the Catskills. Betty wanted to see Herb's legacy remembered in part with a recording of songs from that marvelous collection. We worked together to coordinate singers and recording dates, and during four days in March and April, 2000, this CD came into being. Sadly, Betty died of cancer in May of 2001, but she was able to hear this recording, and trust that it would be carried through to production. I cannot possibly say enough to convey my thanks to Betty for her love and strength, Nancy Edge for her energy, and the artists on this album for their talent, so freely given.
The Arkansas Traveler - Pete Seeger 4:30
The Foggy Dew - Bob & Louise DeCormier 2:37
Lather and Shave - Joe Hickerson 3:31
The Maid on the Shore - Ronnie Gilbert 5:40
The Flat River Raftsman - Mickey Vandow w/ Eric Weissberg 4:30
A Shantyman's Life - Geoff Kaufman 4:05
Last Winter Was A Hard One - Ronnie Gilbert and Joanna Cazden 3:00
The Knickerbocker Line - Bob & Louise DeCormier 2:12
The Hills of Glenshee - Joanna Cazden 5:53
Friends and Neighbors - Happy Traum 5:34
Poor Man's Family - Joe Hickerson 4:18
The Bluestone Quarries - Geoff Kaufman 3:32
The Dewy Dens of Yarrow - Joanna Cazden 4:58
Puttin' On The Style - Joanna, Happy, Joe, Eric, Jay & Molly, and Pete 5:29
Poor and Foreign Stranger - Geoff Kaufman 3:58 [Free MP3] [Listen at last.fm]
Instrumental medley w/vocal (D&H Canal/Delhi Jail/ Devil's Dream) featuring Jay Ungar on fiddle & Molly Mason on piano 3:37
I Walk The Road Again - Bob DeCormier 3:57
Total time: 1:11:21
Your rich voice and fine phrasing are a delight to the ears.
Sid Kaufman (no relation)